Apparently I *barely* missed being tied up in traffic stopped for a mile this morning . . . so I went back and spent several minutes looking at the mess and taking pictures.
This was the scene at Braker and Parkfield in Austin earlier today. Trust me when I tell you that by the time I had arrived (maybe 5 minutes after I decided to turn around) the line of cars was at least over the hill, probably all the way back to Lamar.
A tanker truck driver missed his turn by a foot or two, and damaged his trailer as well as a utility pole.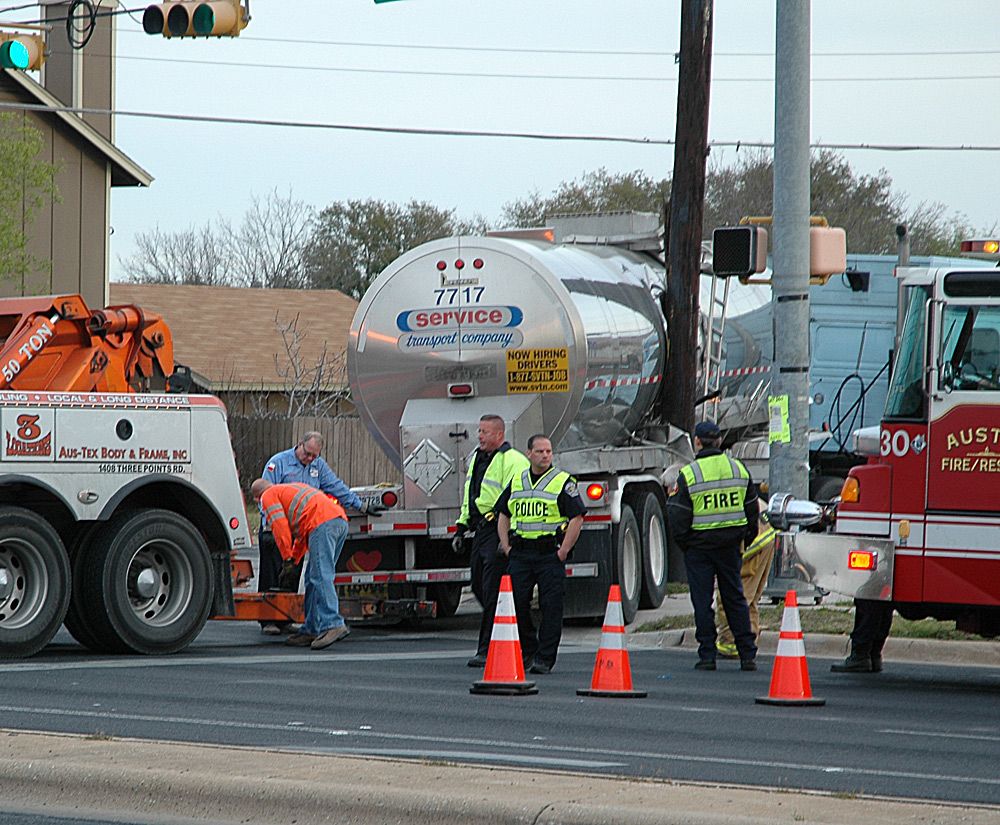 The pole was well and truly embedded in the side of the tanker trailer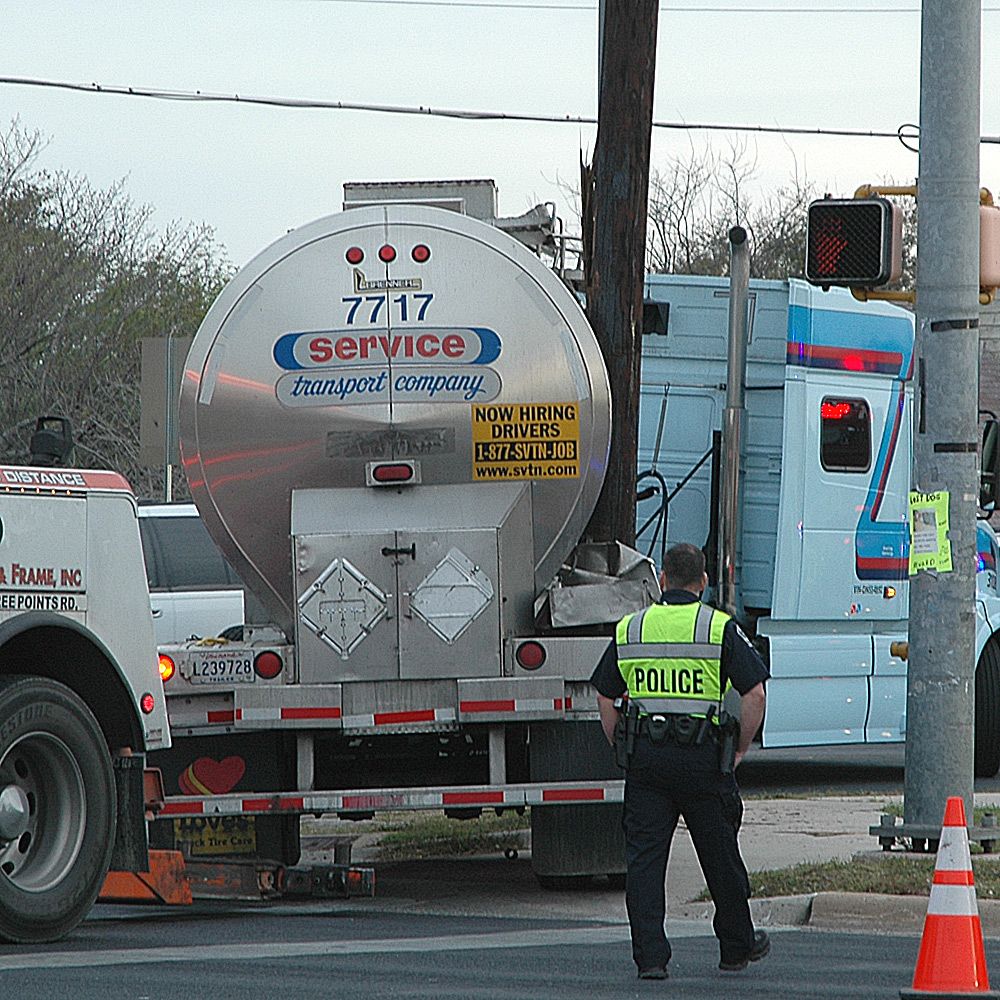 The trailer took heavy damage and appears to have only stopped when it hit the tank-supporting structure near the rear wheels of the trailer. A hose on the side of the trailer was ripped in pieces, and the ladder was destroyed. The dank obviously was badly dented/crushed where it touched the pole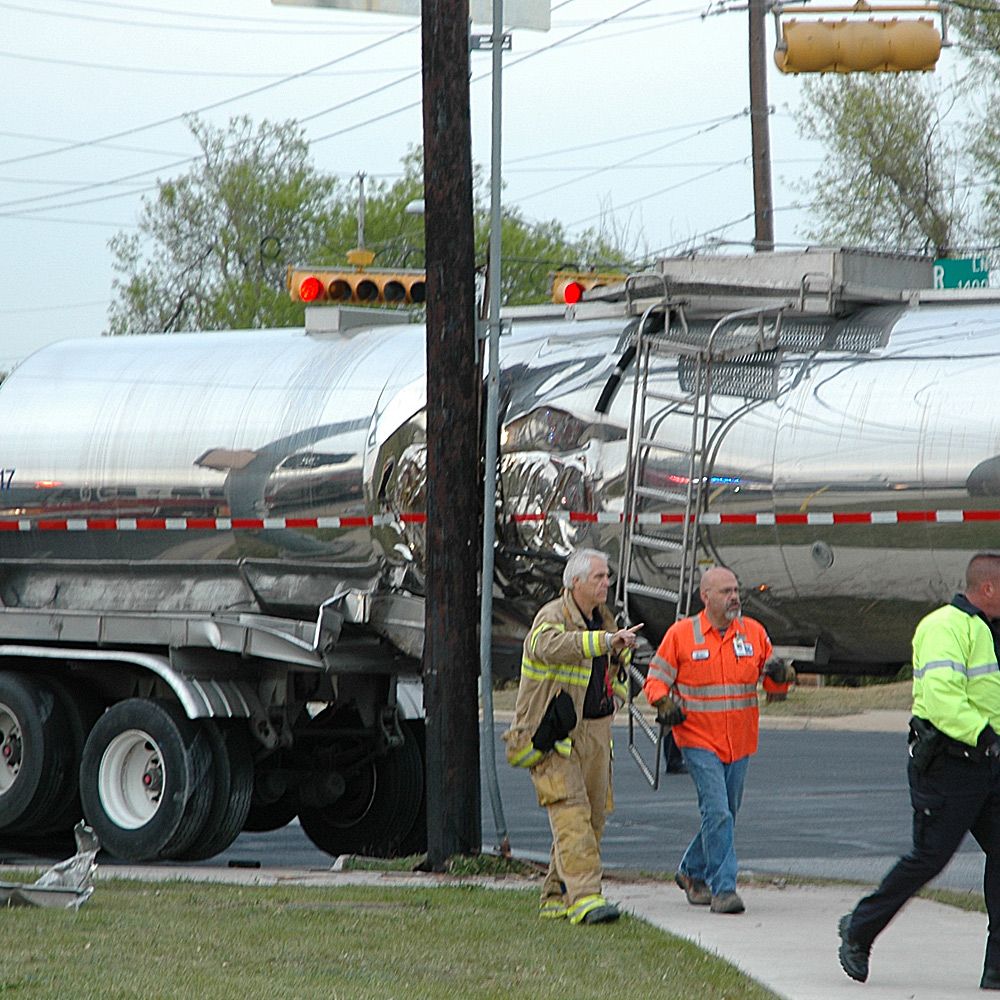 This is usually a nice suburban neighborhood street. Nothing much happens, till all traffic on a the busy thoroughfare is stopped by a random crazy situation.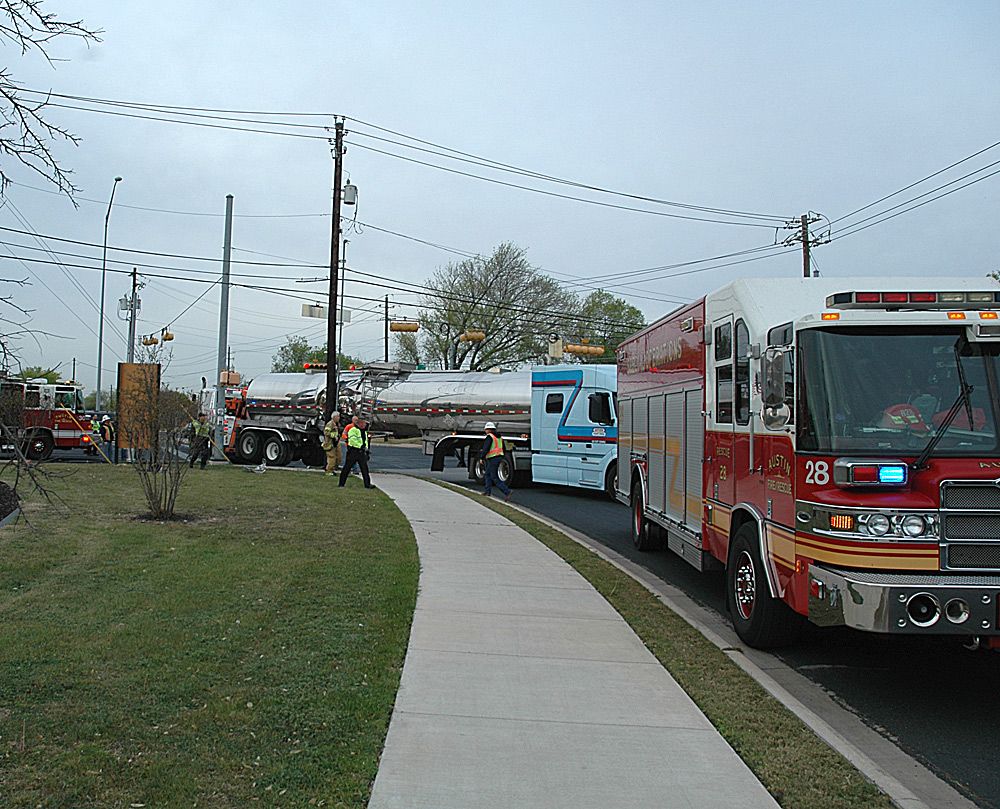 Braker is full of cars in the morning. This morning it was full of stopped cars as the Austin Police Department stopped traffic in both directions so AusTex Towing & Recovery could safely get this tanker disentagled from the pole.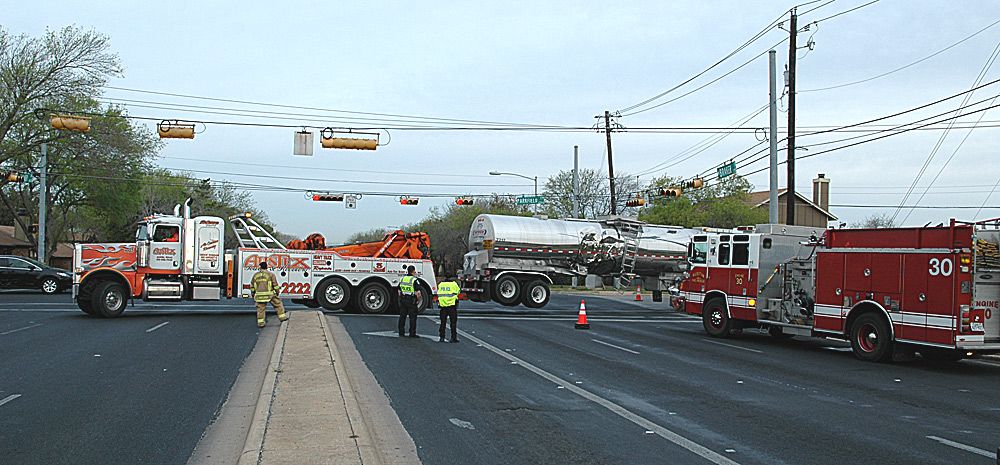 The wrecker lifted the rear wheels of the trailer, and pulled the trailer away from the pole as a driver in the blue tractor slowly drove backwards onto Braker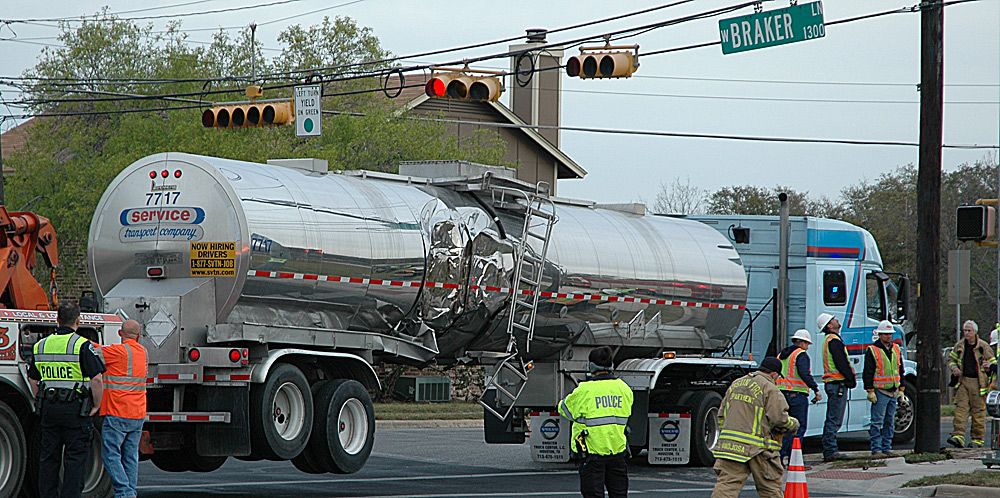 Blue police lights are reflected in the waves of crumpled steel in the side of the trailer.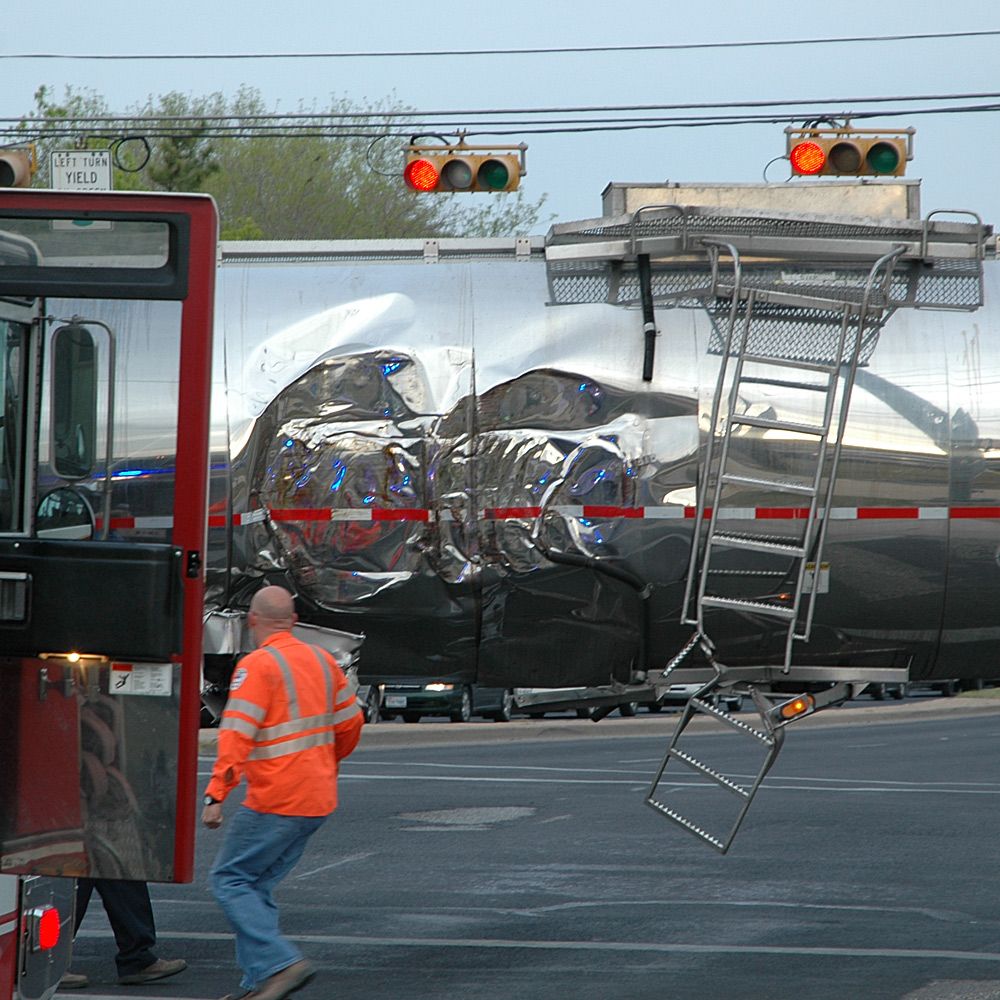 Austin Energy was out in force. Here their linemen are examining the pole struck by the truck. It had a significant amount of wood rubbed off by the truck, here seen as long strips of wood laying around the base of the pole. The pole was shivered all the way through, and will have to be replaced as soon as practicable.
My favorite shot of the morning is the beautiful front-end of the AusTex rig. I like the way both headlights got stars, and the perspective is really great. For this shot, I knelt down low on the sidewalk as the truck was stationary. Don't forget: you can see these images bigger by clicking on them.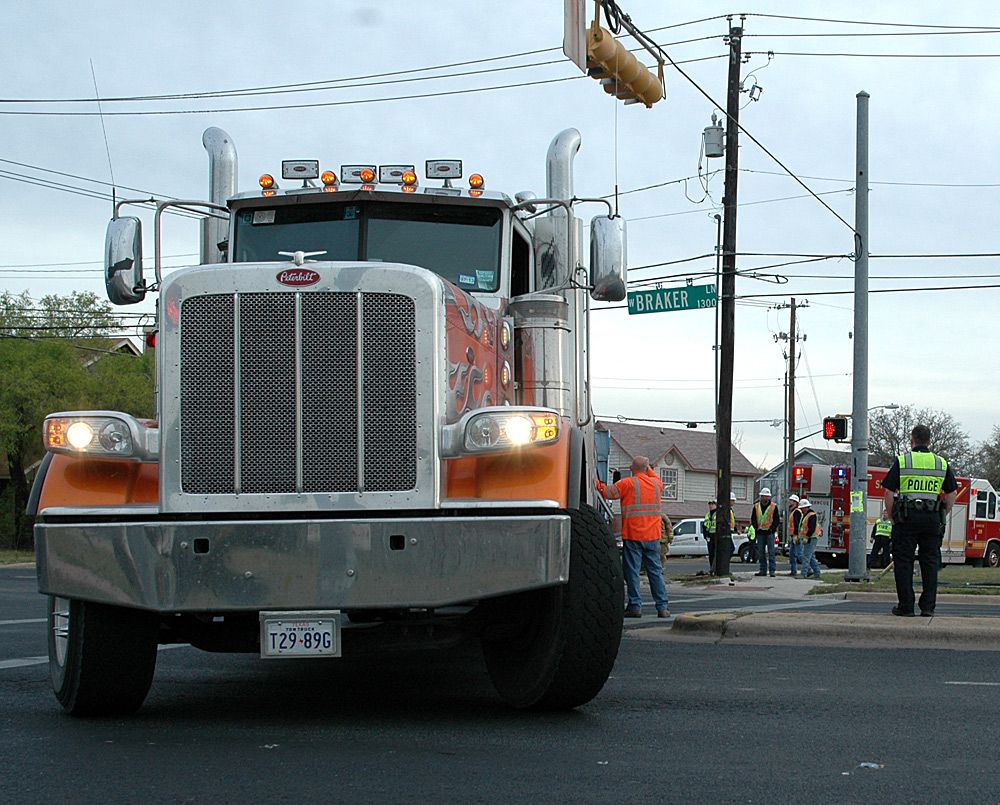 Hiring divers? Looks like maybe one needed a little more training, unfortunately.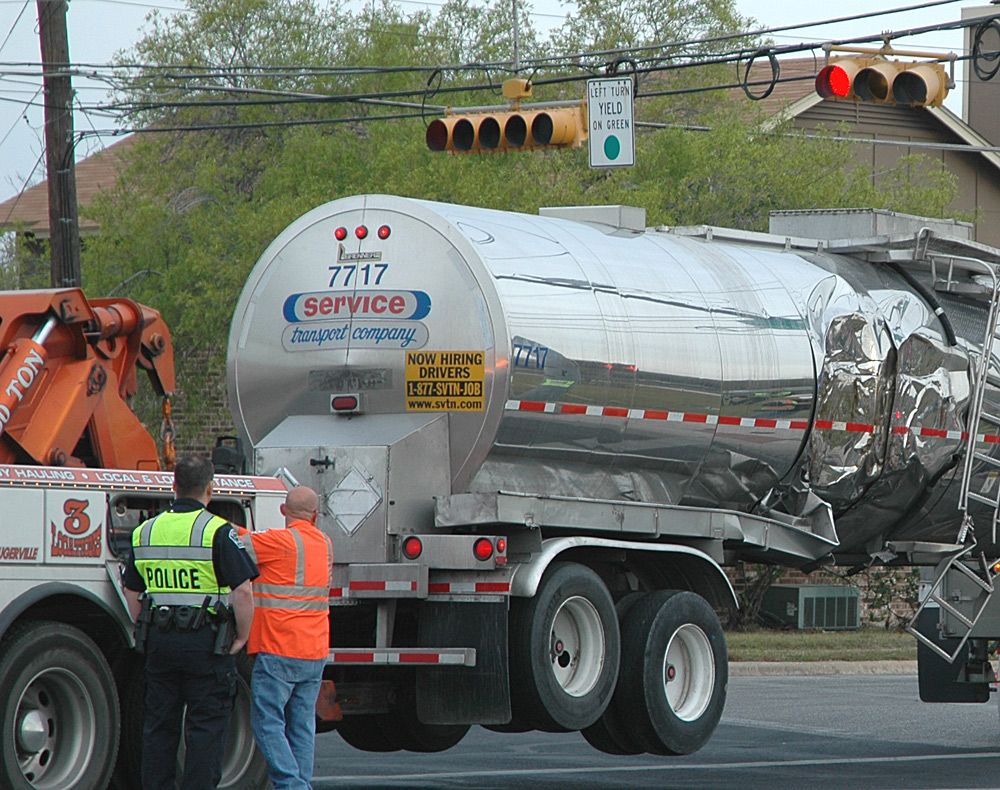 Something you don't see every day: The Austin Fire/Rescue Special Operations truck rolled out.
Cleaning this whole mess off of Braker took about 15 minutes after AusTex arrived and pulled out into the street. Not too shabby, actually. The driver of the truck