George Tiller presumably took an oath that says (translated to English) "First, do no harm." Then he went on to kill an untold number of people whose crimes were largely "Capital Inconvenience to People With Vaginas."
"Dr."
George Tiller is now dead
. Shot when he had his guard down. Let that be a lesson to all of us with unpopular opinions. He was murdered in church.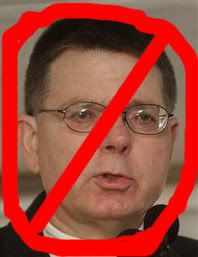 His clinic
is
was one of less than a handful in the country that would kill your baby for you after they were already old enough to be born and subsequently survive. It is fortified, and he usually rolled with bodyguards, but apparently he was unguarded in church. No comment on the type of church that admits a practicing murderer as an usher.
"The slaying of the 67-year-old doctor is "an unspeakable tragedy," his widow, four children and 10 grandchildren said in statement."
The slaying of persons who had done nothing besides gestate is an unspeakable tragedy. This guy's removal from The Land Of The Living is only going to improve a baby's chance of being born. It's inconvenient for you all, but you'll have to excuse my lack of sympathy.
""We are shocked at this morning's disturbing news that Mr. Tiller was gunned down," Troy Newman, Operation Rescue's president, said in a statement. "Operation Rescue has worked for years through peaceful, legal means, and through the proper channels to see him brought to justice. We denounce vigilantism and the cowardly act that took place this morning."

"President Barack Obama said he was "shocked and outraged" by the murder. "However profound our differences as Americans over difficult issues such as abortion, they cannot be resolved by heinous acts of violence," he said."
I agree with Mr. Newman and President Obama wholeheartedly. I do not condone shooting people who deserve it but have not got a fair trial
(yet)
. I also do not regret the death of a murderer.
Note to President Obama: Regarding your comments in a recent speech: it is pretty tough to find "common ground" between people who think we should kill children for our own convenience, and people who do not.
Note to citizens of Texas:
It is legal
for authorized persons and Concealed Handgun Licence holders to carry concealed handguns in a church. I encourage the legal carry of defensive weapons at all times, including guns, including in church.
Wear your guns people!