For many years at work I've been shooting with a* Panasonic DMC-FZ10 which is acceptable for what we do. This week I was pleased to be able to start using a Nikon D100 which is rather a different sort of bird.
Warning: Long, camera-geeky post
Click any picture to see it full-sized and better quality.
"My" D100 was acquired through the magick of the owner of my company being in the right place at the right time, for the princely sum of $75 with the lens, and he got TWO at this price. The other is now a throwdown camera for his daughter. N.B.: We paid $75 for my old Panasonic maybe a year or two ago. THIS is a steal of a deal. This Nikon was slated for resale, but I was able to get it for "temporary testing" until it came up to the auction block . . . and the company owner saw me shooting with it . . . and blessed my keeping it for production work (score!)
This body has the optically-pretty-nice AF-S Nikkor 18-55mm 1:3.5-5.6 lens, and my initial impressions were that it was not particularly sharp, and nowhere NEAR as zoom-y as the lens I was used to using. The Panasonic has a Leica-branded 1:2.8 6-72mm lens with bigger glass up front. The sharpness of the Panasonic (at "internet friendly" resolution) is, when the D100 is properly used, just slightly less-good than the D100 with a lens renowned for sharpness. This is high praise indeed for the Panasonic. I do kinda miss the ability to focus with the lens almost touching the subject, or filling the screen from across the room, but knocking a camera with changeable lenses because of lens performance would be silly. This D100 has the D50's kit lens, and it is a good one aside from being made of plastic.
I had become accustomed to shooting in ISO 50 mode and ISO 400 is straight-up noisy on the Panasonic. The Nikon is quieter at ISO 1600 than the Panasonic at 400. I need to get used to using higher ISO settings!
The Nikon focuses WAY faster than the Panasonic. This is aided by the useful autofocus assist lamp which actually works pretty well.
The Panasonic is not an SLR so the LCD can give a constant live view during focusing. It has a digital zoom manual focus assist feature that lets you see EXACTLY what is in focus. The viewfinder on the Nikon is tiny by comparison, and somewhat harder to use for manual focus.

The Panasonic has a lovely BIG GNARLY METAL focus ring. This Nikkor has a pitiful plastic thing way out on the end of the lens. Everyone who reviews this lens bags on the focus ring with good reason. Still, it works.
I'll have to train myself not to twiddle the right-hand knobs by accident. You can screw up a shot just by moving your finger. This is a feature and a user training issue, not a bug.
Newer DSLRs put displays on the back panel where I like them, this old Nikon only has the top display and the one in the viewfinder.
The power switch on the Nikon is basically a control lock-out. Power consumption is the same on or off after a few seconds without taking a picture. Photos are able to be made immediately at power-on. The power switch on the Panasonic cues up a 5-seconds boot sequence.
I LOVE the zoom-on-auto-review function on the Panasonic. I zoom in on almost every shot to see that it is focused how I like, and that requires extra buttonpressingknobtwiddling on the D100.
The trigger on the D100 is smooth. The Panasonic has a definite hitch to it when the shutter is actuated, which can jar the camera and throw off some of the long exposures it needed because it is so noisy at higher ISOs.
I am finding the D100 somewhat easier to use. This is in no small part because it has DOUBLE (26 vs. 13) the number of knobs and buttons. Many useful things are buried in menus on the DMC-FZ10 that have a straight-up external control on the D100.
The color from the D100 is perfect for what I do with the camera, which is good . . . because the color on the LCD is off (too blue).

I think I officially like this Nikon D100 for a production camera. If I don't, I'm pretty sure we can get more than $75 out of it. If I do keep this thing, I may very well make my company an offer on the old Panasonic, I like it that much.
********
Panasonic Lumix DMC-FZ10
With custom high-visibility yellow surface treatment. I was asked once or twice if it was for use under water. No, it is for use in high clutter work spaces! Look for some hi-viz action on the Nikon in the near future. I used the knurled rubber grip off a thrashed lens to put some hi-tack surfaces on the focus ring and lens hood.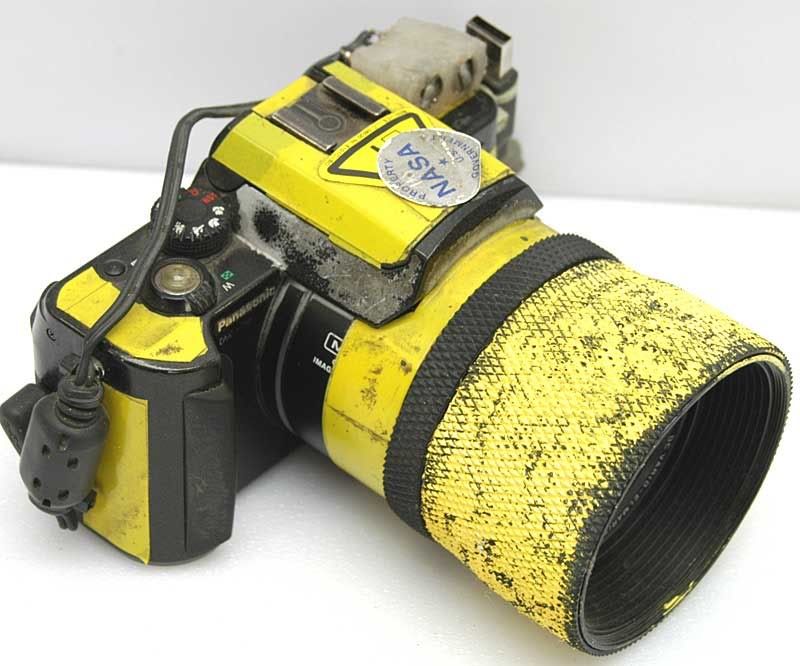 There were many, many times I turned around, stood up, shuffled my feet, or othwerwise moved and pulled the power cord on the camera. I had to use the power cord for benchtop product shots or I'd be changing batteries several times a day which gives me a case of the ass. The blob on top is a magnetic power coupling which releases without pulling the camera. The stock power connector would yank the camera, even to the point that it was slung off the bench onto the floor a few times. Takes a lickin'. The USB cable on the side is a connector preservation measure. That mini USB socket was only designed for 500 insert/removal cycles. This is YEARS for a regular tourist or occasional point/shooter, but months for light professional use. This is the third or fourth USB cable I've used for this purpose. The big-end connectors on the previous cables were totally worn-out beyond all use, but the camera's connector still works just fine, thank you. Look for something like this USB cable on the Nikon in the near future.
The shutter, aperture/speed control, and menu buttons all have self-adhesive buttons on them to make them easier to operate. This is excellent. The zoom and mode controls have knurled edges. I made the knurling deeper with a file after it was worn smooth with much use.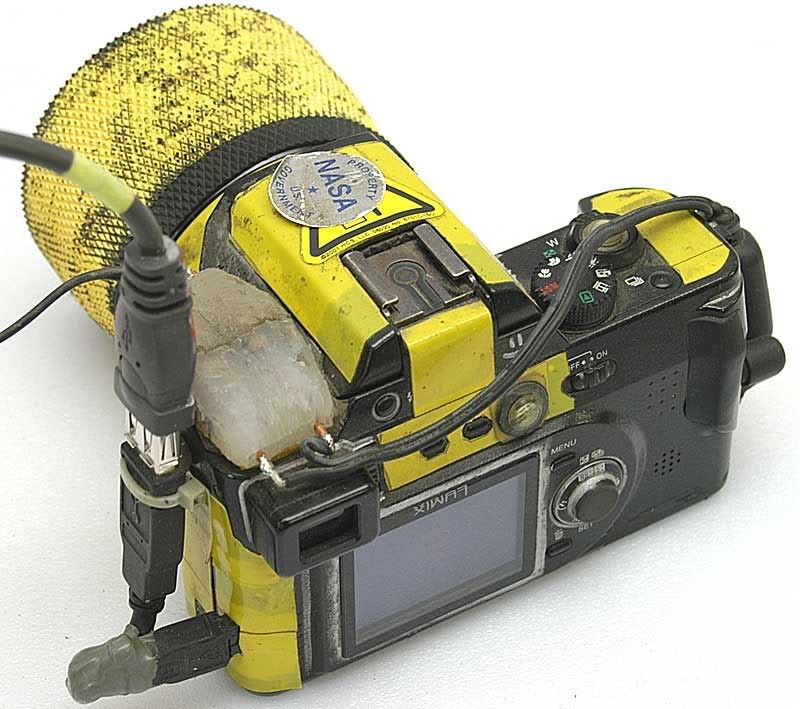 Lens: Leica-branded DC Vario-elmarit 1:2.8 6-72mm ("35-420 equivalent 12x Optical Zoom") focuses down to ~2"
Sensor: 1/2.5" CCD, 4 Megapixels
ISO: 50-400
With image stabilization (technically,

maybe

helps 1 stop!)
2" 130,000 pixel screen
Shutter: 1/2000 to 8 seconds
Flash range: 4 meters
Auto to full manual controls, with the usual modes
Storage: SD/MMC (using a 2GB SD)
Battery: proprietary, small, lasts half a shift if that :(
New retail: $600 in 2003
Nikon D100
Looking at these pictures I can't help but notice the deep knurling on the knobs and very tall buttons for the frequent-use controls. Also the barrel adjustment (zoom) on the lens is hi-tack rubber. This is excellent.
This camera is beautiful. A real cream puff. That will be changing. I don't know how it was treated before, but it's about to start getting a workout.
How many buttons and knobs do you
really
need? ALL of them? Yes the viewfinder boot is gone already. That went missing pretty quickly, actually. I don't miss it.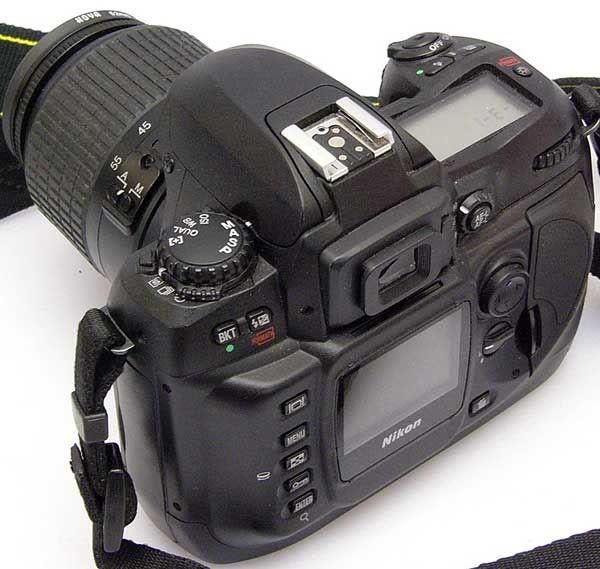 Frikken DSLR already!
Lens: F-mount (universal for Nikon lenses) AF-S (fast autofocus) Nikkor (Nikon) 18-55mm ("28-85mm equivalent") 1:3.5-5.6 ED takes 52mm filters, focuses down to ~11"
Sensor: Sony 23.7x15.6mm (APS-C size) CCD, 6 Megapixels
ISO: 200-1600 (extends to "6400")
Without stabilization (and I don't miss it)
WITH autofocus assist lamp (which is nice)
1.8" 118,000 pixel screen
Shutter: 1/4000 to 30 seconds
Flash range: 11 meters
Auto to full manual controls, with the usual modes
Storage: CF or Microdrive (using a 1GB "133x speed Professional" grade CF)
Battery: proprietary, big, lasts ALL day and then some
New retail: $2000 (body only) in 2002, $160 for the lens in 2006
********
*This is the second, or third, depending on how you count, DMC-FZ10 I've used at work. The first got a fried USB port. They got me a replacement and I dropped the camera LCD-first on a metal corner of something. Then I used the LCD from the first camera to replace the one in the second, and while I was in there I flipped the protective screen upside-down. Note the lettering on top of the screen!
*I also went through FOUR ancient Sony Mavica MVC-FD91 cameras which also had nice big (14x optical) zoom lenses. They used 3.5" floppy disks for storage, and were . . . large.
*I may be hard on gear. Do you think? This is the difference between professional grade and consumer grade equipment. I will be astonished if the Nikon doesn't last longer than the average camera I've used before (1/year, approximately, with some VERY short lived cameras in between).